Pulse Jet Bag Filter
| | |
| --- | --- |
| Green Star APC Tech Private Limited has developed a superior design of Pulse Jet Bag Filter System with many advantages over existing system designs available in the market. Salient features of GST designed Bag Filter Systems are as follows | |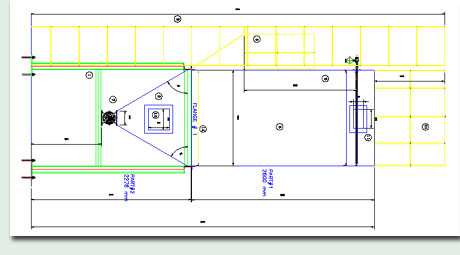 - High Filtration efficiency of Bag Filter system (upto 99.5%) thus superior emission norms (15-50 mg/Nm3).
- Low pressure drop across Bag Filter system (80-150 mmWC).
- Low power consumption of ID Fan due to low DP across Bag Filter system.
- Use of double diaphragm solenoid valves ensure effective cleaning of Filter Bags.
- Proper design of Bag Filter system, Hopper Angle and other critical aspects results in effective dust collection and removes possibilities of dust re-entrapment.
- Longer life of Filter Bags, Cages and other accessories thus lower cost of operation.
- Efficient working of Bag Filter system reduces requirement of maintenance.
- Bag Filter systems designed for use in sub micron particle collection.
- We use Filter Media with suitable chemical and mechanical finish to enhance performance of Filter Bags thus better & easy particulate collection from hopper.
- Ultra modern electronic devices are used to measure and control various process parameters (pressure, temperature, flow, accumulation etc) of Bag Filter system thus assist in easy control during operation.
- We can design Pulse Jet Bag Filter system upto 100000 m3/hr suitable for upto 260 Deg C for dust/fumes with acid/alkali content and fine micron sticky dust. Bag Filter systems can be supplied in MS/SS-304/SS-316-L to meet application requirement.
We can provide the Bag Filter system with "On-Line" and "Off-Line" cleaning arrangement to suite your application requirement and meet stringent pollution control norms. Please write to us for same and our Sales Engineer shall be glad to assist you here with technical inputs.

Reverse Air Bag House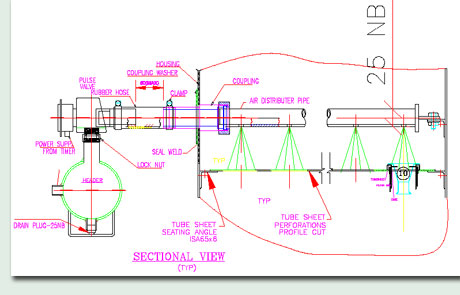 | | |
| --- | --- |
| Situations demanding high gas volume (more than 100000 m3/hr) necessitates use of a different technology, Reverse Air Bag House with Filter Bags being cleaned using counter flow of Gases from opposite direction. This systems are largely used world over in various applications like Cement Kiln, Large Boilers in Power Plants, Fumes Extractions in Steel industry etc. We can undertake the complete project on turn key basis thus saving your precious time with efficient on-time execution of project. | |

Cartridge Filter System
| | |
| --- | --- |
| We can design compact dry air Filtration System using pleated cartridge elements thus resulting in space and cost savings at the same time delivering effective filtration performance. We have supplied numerous Cartridge Filter System using Pulse Jet technology for various applications and gas volumes ranging from 500 m3/hr to 10000 m3/hr. These units are custom designed to meet the site constraints and application requirement. | |

Silo Vent Filter
| | |
| --- | --- |
| We can supply Bag Filter systems designed for venting application of a Silo / Material Storage Tank thus assisting in efficient collection of valuable process dust and effective performance of material handling chutes in depositing dust in the Silo. These systems are also custom designed to meet the application requirement as per dust characteristics. | |

Material Dump System
| | |
| --- | --- |
| Modern technology enables clean working environment. We can design Manual Material Dump systems to meet your specific requirement as per process layout. We have supplied such system with low noise levels and effective dust collections to enable better work place situations for your invaluable employee resource. | |

Cyclone/Multi Cyclone
| | |
| --- | --- |
| Applications where cost economies do not permit use of Bag Filter system for dust collection, we can design and supply the cost efficient Cyclones for dust collection application. These systems can be designed for wide ranging gas volume (1000 m3/hr to 50000 m3/hr) and heave to medium dust with acid traces. High efficiency Multi Cyclones can be supplied for meeting stringent application and pollution control requirement. | |

Wet Scrubber
| | |
| --- | --- |
| For dust with high moisture and traces of acidic content, we suggest use of Wet Scrubber to effectively control Pollution and dust collection. These system utilizes use of water spray in collecting the dust while passing through narrow ventury orifice. Whole system is designed with the perspective of probable acid attack on body of system, thus critical and contact parts being made in SS-316. | |

Heat Exchanger
| | |
| --- | --- |
| We have expertise to design Heat Exchanges meeting various application needs across range of material of construction ranging from Carbon Steel to Alloy Steel to AISI 304/316. Our Technical Team shall be readily available to visit your plant and study the process parameters for design of suitable Heat Exchanger of Tube & Shell type. | |

Filter Bags
Filter Bags are a crucial part in the Bag Filter system and its performance decides the efficiency of system to a large extent. Use of right Filter Media with suitable performance enhancement finish (mechanical and chemical) results in longer life of Filter Bags, Lower DP across Bag Filter and high Filtration Efficiency. WE can supply Filter Bags made of following Filter Media to meet your requirement.

| | | |
| --- | --- | --- |
| Low Temperature | : | Polyester / Polypropylene / Homopolymer Acrylic (PAN-H) |
| Medium Temperature | : | Ryton (PPS), Nomex, Aramid/Meta Aramid |
| High Temperature | : | P-84 (PI), Woven/Nonwoven Fibre Glass, 100% PTFE |
| PTFE Membrane Laminated | : | on PE/PP/PPS/Acid Resistant Fibre Glass/100% PTFE |
| Chemical Finishes | : | Silicon, Graphite, Teflon |
| Mechanical Finishes | : | Anti Static, Singed, Calendared, Spark Resistant |
| Filter Bag Type | : | Pulse Jet, RABH Fibre Glass Filter Bags |

We have exclusive arrangement with world leader in Filtration Business, M/s Midwesco Filter Resources Inc USA to supply their products in Indian market. We welcome your valuable inquiry towards these products.

Pulse Jet Bag Filter Accessories
We have extensive know how on various components being used in Pulse Jet Bag Filter systems and its suitability to your earlier supplied system. We can assist you in choosing right material of construction and suitable dimensions to meet stringent pollution norms. We can supply following material to meet your replacement requirement.

| | | |
| --- | --- | --- |
| Cages | : | Carbon Steel / AISI 304 / AISI 316-L / 10 to 24 wire in 3-4 mm |
| Ventury | : | Cast Iron, Aluminum with suitable groove for Cage fitment |
| Solenoid Valves | : | Single, Double Diaphragm in 1/1.5/2 inches |
| Timer Card | : | Suitable for 3 to 30 channel |
| RALV | : | 200 to 450 mm, square/circular flange, CS/SS-304/SS316L |
| Screw Conveyor | : | 500 to 6000 mm. CS/SS-304/SS316L |
| ID Fan | : | Upto 450000 m3/hr, centrifugal backward curved inclined etc |
| By-Pass Dampers | : | For complete system By-Pass in event of temperature excursions |
| System Automation | : | For ease of control during operation of unit |

Reverse Air Bag House Accessories
Green Star APC Tech Private Limited has wide experience in working with ESP technology through its various associates. We have thorough experience in selecting suitable components for ESP of major manufacturers. We can supply following accessories manufactured in our strict quality control.

Pneumatic Tensioning Device

ESP Accessories
Green Star APC Tech Private Limited has wide experience in working with ESP technology through its various associates. We have thorough experience in selecting suitable components for ESP of major manufacturers. We can supply following accessories manufactured in our strict quality control.

Collecting Plates / Discharge Electrodes

Shaft / Support InsulatorsConical SS Spring

TR Set (of suitable rating)